Progressive Jewish groups in the U.S. and Palestinians called out the decision by the United Arab Emirates (UAE) and Israel to normalize diplomatic relations, arguing that the move does not contribute to a peaceful solution of the conflict between Israelis and Palestinians.
On Thursday, President Donald Trump first announced the historic decision, with the UAE becoming only the third Arab state to officially normalize ties with Israel. Arab nations have largely backed Palestinians since the founding of Israel in their homeland in 1948. In 1980, Egypt became the first Arab state to normalize relations with Israel, followed by Jordan in 1994.
"During a call with President Trump and [Israeli] Prime Minister Netanyahu, an agreement was reached to stop further Israeli annexation of Palestinian territories," Deputy Supreme Commander of the UAE Mohammed bin Zayed tweeted on Thursday. "The UAE and Israel also agreed to cooperation and setting a roadmap towards establishing a bilateral relationship."
Get your unlimited Newsweek trial >
But Palestinians and progressive Jewish groups dismissed the reasoning put forward by the UAE, arguing that Israel had long been annexing land recognized as belonging to Palestinians under United Nations agreements. They said this agreement would simply end the formal annexation process launched by Netanyahu.
"The Palestinian leadership rejects and denounces the UAE, Israeli and U.S. trilateral, surprising announcement," Nabil Abu Rudeineh, a senior adviser to Palestinian President Mahmoud Abbas said in a statement, Reuters reported.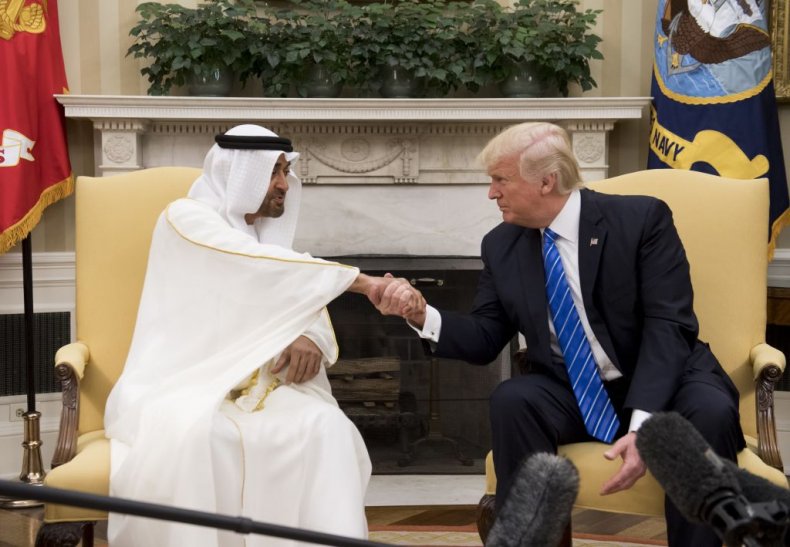 "After months of mounting pressure against Prime Minister Netanyahu's annexation plans from around the world, this treaty—recognizing the informal ties that have existed between Israel and the UAE for years—gives Netanyahu diplomatic cover to say that he stopped formal annexation of the West Bank," Jewish-American group IfNotNow's political director, Emily Mayer, said in a statement emailed to Newsweek.
Get your unlimited Newsweek trial >
"Meanwhile, the Israeli government can continue doing exactly what it has already been doing for decades—removing Palestinians from their land and stripping them of their rights," she said.
Hanan Ashrawi, a member of the Palestinian Liberation Organization's executive committee, tweeted that Israel was being "rewarded for not declaring openly what it's been doing to Palestine illegally & persistently since the beginning of the occupation." Ashrawi said the decision by the UAE and Israel was just making "secret dealings" formal.
Retweeting bin Zayed's post about the decision, Ashrawi wrote: "May you never experience the agony of having your country stolen; may you never feel the pain of living in captivity under occupation; may you never witness the demolition of your home or murder of your loved ones. May you never be sold out by your 'friends.'"
Representative Rashida Tlaib, a Michigan Democrat who is the first Palestinian-American woman to serve in Congress, criticized the decision on Twitter, calling it "another Trump/Netanyahu deal."
"The focus needs to be on promoting solidarity between Palestinians & Israelis who are joining together in struggle to end an apartheid system. We must stand with the people," she wrote.
"Annexation off the table in exchange for $$$ and nothing more for Palestinians. Nothing to do at all with peace," Rabbi Alissa Wise, the deputy director of Jewish Voice for Peace, tweeted.
"Despite how unsurprising it is that the #UAE normalized relations with #Israel, it is as disappointing as ever to witness the failure of Arab nationalism and the endorsement/surrender to a colonial future," Noura Erakat, a Palestinian-American human rights attorney and professor at Rutgers University, tweeted.
But some progressive groups welcomed the decision.
"J Street welcomes today's announcement that Israel is suspending plans to annex parts of the West Bank and that the United Arab Emirates and Israel are taking steps to establish more normalized ties," J Street, a nonprofit liberal advocacy group that works for a peaceful resolution to Israeli-Palestinian and Israeli-Arab tensions, told Newsweek.
"This decision by Prime Minister Netanyahu signals a major retreat from repeated threats to carry out de jure annexation and indicates that efforts to oppose annexation—in Israel, the U.S. and around the world—have achieved significant success," the organization said in a statement.
Newsweek reached out to the Palestinian National Authority government for further comment on the announcement from the UAE and Israel, but it did not respond in time for publication.