Senator Lindsey Graham (R-S.C.) insisted that he was "just saying hello" after appearing to congratulate Vice President-elect Kamala Harris on her election win with a fist bump on the Senate floor Tuesday.
Graham raised eyebrows after apparently congratulating Harris despite backing evidence-free conspiracy theories and claims of fraud touted by President Donald Trump, who has refused to admit that he and Vice President Mike Pence lost the election to Harris and her running mate, President-elect Joe Biden. CNN's Manu Raju said Graham stressed that his gesture was not meant as an acknowledgement that Trump lost the election after being asked to explain.
"Just saying hello – I haven't a seen in her in a while," Graham explained, according to a tweet from Raju. "If it works out and they make it, I told her I wish her well and try to work where we can. We will know here in a month or so or less."
Harris, who is still representing California in the Senate until Governor Gavin Newsom names her replacement, returned to the chamber to help Democrats block a confirmation vote for Judy Shelton, Trump's controversial nominee for the Federal Reserve.
Raju also said that Republican Sens. Tim Scott, James Lankford and Mike Rounds all offered congratulations to Harris on her win. Sen. Ben Sasse congratulated her in person after previously issuing a statement that saw him become one of only a handful of GOP senators who have publicly congratulated Biden and Harris.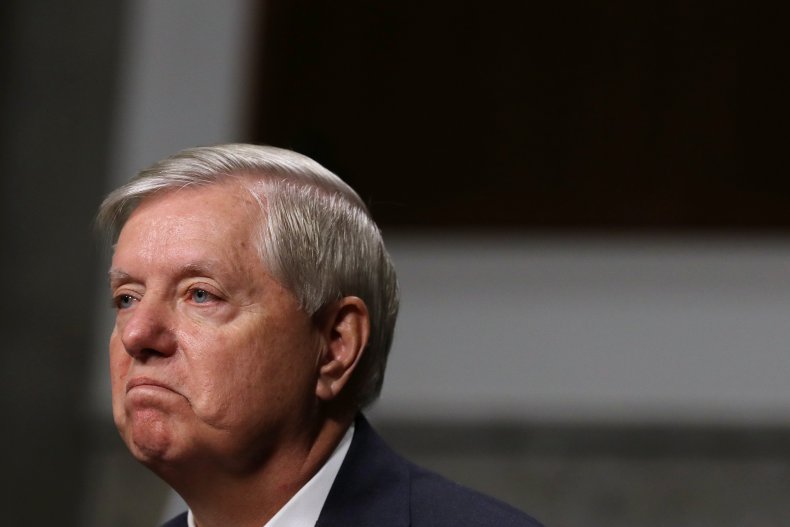 Graham has been under intense scrutiny since Monday, when Georgia Secretary of State Brad Raffensperger, a fellow Republican, said that the senator had called and attempted to pressure him into finding a way to reverse Biden's win in the state by invalidating legal votes in an interview with The Washington Post.
Graham later described Raffensperger's account as "ridiculous" while noting that his concerns about "election integrity" had also prompted him to call secretaries of state in Arizona and Nevada, additional states that Trump lost by relatively thin margins.
However, Nevada Secretary of State Barbara Cegavske and Arizona Secretary of State Katie Hobbs both said they had not spoken to Graham, while a staffer for Raffensperger who had been on the Georgia call backed up his account of their conversation.
Although Graham has been viewed as one of Trump's most loyal allies in recent times, his position has changed considerably over the past four years. Prior to the 2016 election, the senator blasted Trump's baseless claims that his contest with former Secretary of State Hillary Clinton would be "rigged."
"Like most Americans I have confidence in our democracy and election system," Graham said in an October 19, 2016 statement posted to Twitter. "If he [Trump] loses, it will not be because the system is 'rigged' but because he failed as a candidate."
Newsweek reached out to the office of Harris for comment.