Meghan McCain, co-host of the ABC television show The View and daughter of the late Arizona Senator John McCain, said Wednesday that the GOP was on "a hell of a path" after House Republicans met concerning the political fates of Wyoming Republican Representative Liz Cheney and Georgia Representative Marjorie Taylor Greene.
Cheney voted in favor of the second impeachment of President Donald Trump, leading some Republicans to call for her removal as House Republican Conference Chair. Greene had come under fire for statements made before she was elected in which she appeared to support QAnon-related conspiracy theories.
McCain, who has criticized Greene previously, said the only thing keeping her from drinking on Wednesday was the fact that she had a baby.
"If I didn't have a four month old and wasn't still nursing I would be drinking QUITE a lot of whiskey tonight," McCain tweeted Wednesday. "The GOP is picking a hell of a path…."
On Monday's episode of The View, McCain said Greene represented a divisive force within the Republican party and presented a distorted view of the GOP to the general public. "Even for me," McCain said, "I'm sick of trying to defend the fact this crazy person isn't like the rest of us."
"She's sort of loud and embarrassing and not effective," McCain added, saying that she believed Greene should be removed from her appointment to the Budget Committee and the House Education and Labor Committee.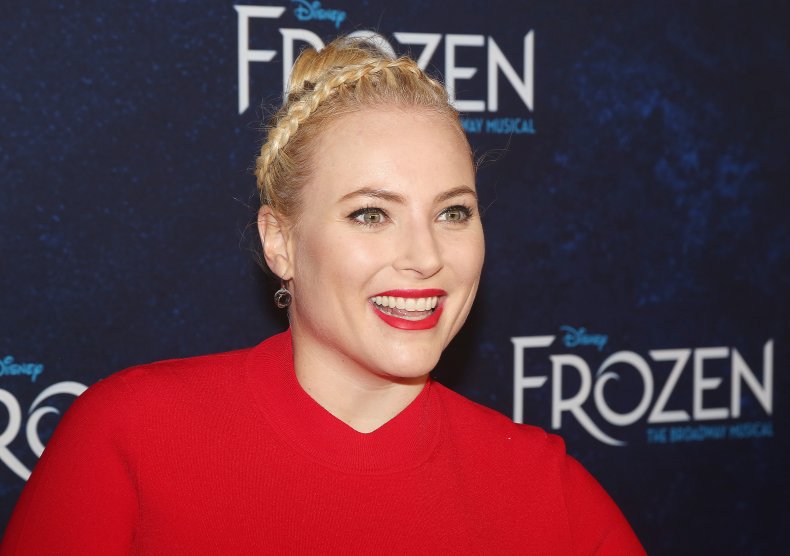 Before her election, Greene had voiced support for social media posts that alleged the mass shooting at Marjory Stoneman High School in Parkland, Florida was a "false flag" event.
Greene reportedly apologized to House Republicans for her past comments during a meeting of House Republicans on Wednesday. According to Reuters, Greene received a standing ovation from some Republicans at the meeting after her apology.
Despite pressure from some Republicans to remove Greene from her committees, House Minority Leader Kevin McCarthy opted not to discipline Greene while denouncing her controversial statements.
McCarthy said he made clear to Greene that the House condemned the QAnon movement.
"I also made clear that as a member of Congress we have a responsibility to hold ourselves to a higher standard than how she presented herself as a private citizen," McCarthy said in a Wednesday statement. "Her past comments now have much greater meaning. Marjorie recognized this in our conversation. I hold her to her word, as well as her actions going forward."
Despite the refusal of the GOP to discipline Greene, House Democrats are expected to vote on Thursday on whether Greene should remain on her assigned committees. The House Rules Committee passed a resolution on Wednesday to remove Greene. In a Wednesday tweet, House Majority Leader Steny Hoyer said there was "no alternative to holding a Floor vote on the resolution to remove Rep. Greene from her committee assignments."
Newsweek reached out to Greene's office for comment.
GOP House members also debated on Wednesday if Cheney should be removed from her position as the third most powerful Republican in the House. After her vote to impeach Trump, Arizona Representative Andy Biggs told Fox News in January that Cheney was "not representing the conference. She's not representing the Republican ideals."
Florida Representative Matt Gaetz visited Wyoming, Cheney's home state, to speak negatively about Cheney's decision.
"How can even you call yourself a representative when you don't represent the will of the people?" Gaetz asked the Wyoming crowd in January.
After a vote that took place behind closed doors, House Republicans chose to keep Cheney as GOP Conference Chair by a vote of 145-61. Speaking to reporters after the vote, Cheney said that the vote made clear that the GOP would not "be divided and that we're not going to be in a situation where people can pick off any member of leadership."