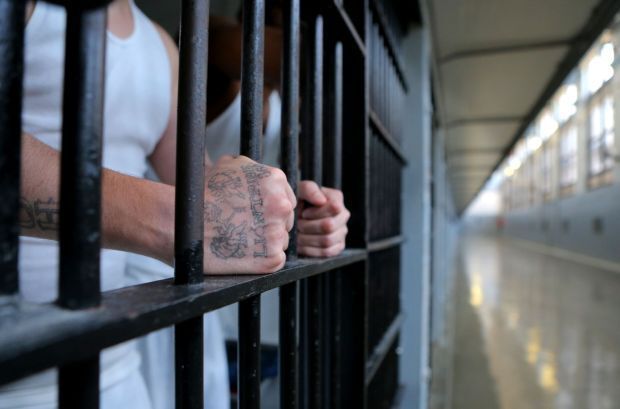 One morning last week a man showed up at my front door with a subpoena. I was being called as a witness at a hearing for Paige Spears, a guilty man who is trying to get out of prison. I have long championed his cause, but it has been a tough sell because of his guilt. He used to be a stick-up man. He was rightfully classified as a persistent offender. He was given a life sentence.
Spears went to prison for the last time in 1988, so all of his appeals have long since been exhausted. A hearing had to be good news. Somebody was considering his case. I was pleasantly surprised.
There are several reasons I support his quest for freedom. First, he didn't kill anybody. Armed robbery is a serious offense and demands a severe sentence, but if you talk to anybody who has ever been on the wrong end of a gun, that person will tell you his or her first thought — and it was overwhelming — was, "Please don't kill me."
So ought we not show some consideration to a guy who was willing to leave a witness? A sentence of 10 or 15 or 25 years seems appropriate for a guy who is messed up, but not homicidal. Life is what we'd give a guy for second-degree murder.
For clarity, let me explain that there are two kinds of life sentences — Big Life and Baby Life. Big Life, which means no possibility of parole, only goes to first-degree murderers. Parole is possible with Baby Life. For parole purposes, the state figures life to be 30 years. That means you will be eligible for parole after serving 85% of 30 years. That would seem to indicate that Spears would have been eligible for parole in 2013, after serving 25 years.
But that 30-year calculation became law in 1994. Before then, life meant 50 years. The new law was not made retroactive, so Spears has to do 80% of 50 years before he is eligible for parole. That's 40 years. There are plenty of fellows who were convicted of second-degree murder after 1994 and are now free.
Meanwhile, Spears sits in a cell.
So there is a fairness issue here.
Of course. Even a murderer can evolve. I have never advocated for a murderer's freedom, because some crimes require a life sentence. Spears' sins didn't rise to that level.
Spears robbed a convenience store when he was 16. He was certified as an adult. He went to prison, did two and a half years, got out and robbed another convenience store. He did six years. In total, he racked up six felony convictions. His final one was in 1988 when he and a friend robbed a liquor store in Ferguson. His friend had the gun. They got $629 from the cash register, but as they were leaving the store, a customer came in and the clerk shouted, "I've been robbed!" Spears and his friend rushed out to the getaway car only to discover they had locked the keys in the car.
So Spears was clearly guilty.
The state offered him 18 years, but he opted to go to trial. Bad decision after bad decision. He was convicted.
By the way, the judge who sentenced him was Steve Goldman. Before becoming a judge, Goldman was a prosecutor. He prosecuted Ellen Reasonover, who was convicted of murder. She served 16 years in prison and and was then freed because the state had withheld exculpatory evidence from the defense. Her prosecution was "fundamentally unfair," a federal judge ruled.
Maybe a different judge would have given Spears a lesser sentence. Although the sentence was technically life, Goldman's clerk entered it as 1,001 years.
At any rate, Spears was a young knucklehead doing life. But he grew up. He evolved. He decided to to take advantage of any programs the prison system offered. Of course, you can't put too much stock in prison accomplishments. Prisoners want to look good at a parole hearing. But still, Spears was an exemplary inmate. He became a mentor to younger prisoners.
I do not recall how I heard about him, but I first visited him about 10 years ago. I wrote about him, and the odd situation he was in regarding the definition of a life sentence. The response to that column was generally negative — few people had sympathy for an armed robber — but there were some notable exceptions. I heard from a couple of people inside the correctional system who held Spears in high regard. That was unexpected. Correctional folks are a skeptical lot.
So I was pleasantly surprised to get a subpoena to testify at a hearing for Spears. His mother is 84. She is very religious. She has long had faith that her son would be delivered to her. Maybe that faith was about to be rewarded.
But no. Two days after I received the subpoena, I got a call from Herman Jimerson, Spears' attorney. It's off, he said. He emailed me the judge's decision.
Circuit Court Judge Stanley Wallach wrote that he had reviewed the motion for a hearing for "reducing/converting the sentence," and had decided that the matter could be disposed of without any such hearing. The judge denied the motion. In his order, he also said that the state had opposed the request for a reduction of sentence.
By state, he meant the office of Prosecuting Attorney Wesley Bell.
How could a reformer oppose the motion?
Dana Mulhauser is chief of the Conviction and Incident Review Unit in Bell's office. So she was in charge of looking at the old case.
"We're very sympathetic," she said, "but we have to follow the law. We can't just wave a magic wand."
She said that Jimerson had argued in his motion that Spears had been improperly sentenced as a Class X offender, and the problem is that he was a Class X offender.
Mulhauser said she couldn't sign off on something that wasn't true.
The judge was of the same mind. He cited Spears' earlier convictions that made him a Class X offender. The judge seemed sympathetic, but was forced to follow the law.
"The Court notes the communications it has received from individuals who believe that Movant deserves a reduction of sentence, and is not insensitive to the sentiments expressed therein. However, the Court lacks the power to grant that relief," the judge wrote in his order.
Which is where things stand now.
It seems there are two avenues available. The Legislature could make the 1994 definition of a life sentence retroactive. Spears would become immediately eligible for parole. Or the governor could commute the sentence.
Maybe those of us who think 50 years is an excessive sentence for an armed robbery in which nobody was shot should change our argument. Let's quit talking about justice and fairness. Let's talk about economics.
We're damned tired of paying room and board for Paige Spears. Let's throw him out of prison. Let his loving family, especially his mom, who is increasingly frail, take over.